2023 Colorado Springs Comic Con Coverage
The event was held Friday, August 25-Sunday August 27 at The Broadmoor World Arena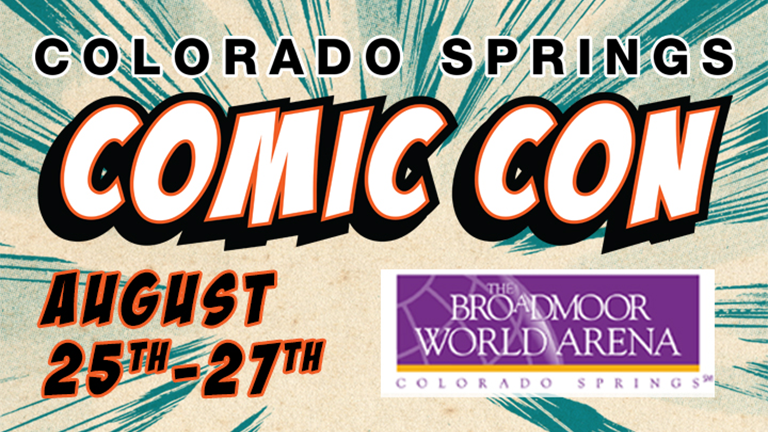 Check out our coverage at the 2023 Colorado Springs Comic Con!
COLORADO SPRINGS, CO- There was a lot to see over the three day event. From vendors, like the Copper Coast (Chocolatiers) who had an entire section of pop culture themed fudge including pickle flavored (Pickle Rick,) to the Cosplayers, celebrities and more. The 2023 Colorado Springs Comic Con had a lot to offer!
William Shatner held a panel talking about his impressive career on Saturday.
The Incredible Hulk actor Lou Ferrigno talked to us first in-studio Thursday, and on Sunday was deputized into the El Paso County Sherriff's Office. He told us he went on a segway tour of Garden of the Gods while he was here.
We got to talk to William Daniels and Bonnie Bartlett. The actors have been married for 72 years! Daniels said he thought the idea of Kitt (Knight Rider) was silly – a car that could talk! Bonnie said that he spent 45 minutes each week to voice Kitt. He didn't even meet David Hasselhoff until the Christmas Party!
Actor Chandler Riggs of The Walking Dead franchise wasn't able to have any photos with him from Walking Dead because of the writers' strike. He said didn't really get a chance to see much of Colorado Springs while he was here.
On Sunday, we ran into Gina Schock the drummer for the music act The Go-Go's. She has her own art now (The Rhythm of Art) which uses her drumming as the creative tool.  She has a new single out called "'Smile Pretty" and revealed another single will be out early next year. She even revealed that she wrote music for Miley Cyrus and Selena Gomez ("Break Out" and "Kiss and Tell" respectively.)
We spent the entire weekend in awe of the impressive Cosplayers walking around. Out of respect for them, we mostly didn't ask for photos with them, but we did interview some.
There were a lot of cool vendors selling everything from comic books, to clothing, posters, artwork and more from pop culture's favorite shows. Some vendors had impressive jewelry and creative works, like the crochet booth where everything from keychains to stuffed toys were all crocheted! We can't wait to see what the 2024 Colorado Springs Comic Con brings!
Check out some video we captured at the 2023 Colorado Springs Comic Con below!