Here's where to sign up for your free COVID-19 Test Kits today as well as where to pick up an N-95 mask this week
The Federal Government announced that each household that signs up will receive four test kits.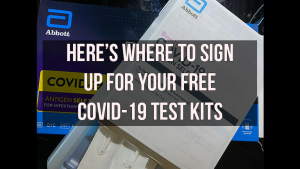 Every home in the U.S. is eligible to order 4 free at-⁠home COVID-⁠19 tests. The tests are completely free. Orders will usually ship in 7-12 days.
Order your tests now so you have them when you need them.
Ordering begins today, January 19. HERE IS THE LINK to the government website.
Yesterday Governor Polis announced he would be working alongside the Colorado Homeland Security to distribute N-95 masks to households as soon as Thursday. Here is a full list of locations in the state where they will be able to be picked up. 
Officials say cloth masks are not efficient enough at protecting one from the Omicron variant of COVID-19, and the N-95 masks will provide the best protection.
*Actual test not pictured.