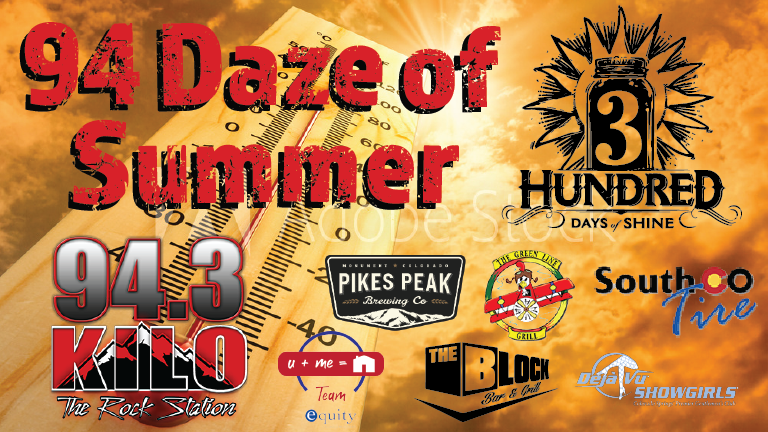 The Rock Station 94.3 KILO along with 3Hundred Days Of Shine are doing our best to bring the heat this summer! 94 Daze Of Summer is back and that means your chance at a $943 prize. Rock with KILO Monday – Friday on the KILO Morning Show as Ross Ford adds a 94 Daze Of Summer Prize to the Prize list. Then, listen for the 94 Daze Of Summer cue-to-call and get qualified to score one of those prizes during one of the three 94 Daze Of Summer giveaway's, taking place each month at 3 Hundred Days Of Shine. First giveaway takes place Saturday, June 26th from 4-6p. Must be checked in NO LATER THAN 5P at 3Hundred Days Of Shine
94 Daze Of Summer brought to you by 3Hundred Days Of Shine in Monument with additional sponsorship by The Block Bar & Grill, Deja Vu Showgirls, South Co Tire, Pikes Peak Brewing Company, U + Me = Home Team, Green Line Grill and The Rock Station 94.3 KILO. 
94 Daze Of Summer Prize List
6.1
"3 HUNDRED DAYS OF THE SHINING" 300 DAYS WORTH OF MOONSHINE (12 JARS), PORTABLE LCD PROJECTOR AND 15FT INFLATABLE MOVIE SCREEN FOR MOVIES IN YOUR BACKYARD AND A COPY OF THE SHINNING ON BLU RAY. COURTESY OF 3HUNDRED DAYS OF SHINE
6.2
"CHEESE BURGER, CHEESE BURGER, CHEESE BURGER" A BURGER, FRIES AND A DRINK.. EVERYDAY FOR A FIULL YEAR.. IF YOU DON'T KNOW THAT'S 365 BURGERS!! COURTESY OF GREEN LINE GRILL.
6.3
"DON'T TREAD ON ME"; 4 NEW TIRES FOR YOUR RIDE AND METALLICA'S BLACK ALBUM REMASTERED 4 PIECE VINYL SET. COURTESY OF SOUTH CO TIRE.
6.4
"JENNY FROM THE BLOCK" $943 GIFT CARD FROM THE BLOCK BAR & GRILL TO SHARE A DRINK WITH A GIRL NAMED JENNY FROM THE BLOCK (JENNIFER LOPEZ NOT INCLUDED). COURTESY OF THE BLOCK BAR & GRILL.
6.7
"BEER ME, BRO" $94 TOWARDS IN HOME BREW EQUIPMENT SO YOU CAN LEARN TO BEER YOURSELF, BRO. PLUS, A KEG OF PIKES PEAK BREWING COMPANIES FINEST FOR INSPIRATION. COURTESY OF PIKES PEAK BREWING COMPANY .
6.8
"BEATS A CARDBOARD BOX" $943 TOWARDS CLOSING COST COURTESY OF U + ME = HOME TEAM
6.9
 "FISTFUL OF 1'S" $943 IN ONE DOLLAR BILLS, WHICH WILL GO A LONG WAY AT DEJA VU SHOWGIRL'S.
6.10
"DO YOU FEEL LUCKY, PUNK?" $943 IN COLORADO LOTTERY SCRATCH TICKETS.
6.11
"MAGIC 8 BALL": ASK FOR $943.. IT SAYS NO.. YOU LOSE $100.. KEEP ASKING TILL YOU WIN SOME MONEY..
6.14
"THE HOMER" A KEGERATOR AND A DONUT MAKER
"SMOKE EM IF YOU'VE GOT EM"  A PELLET SMOKER AND $400 WORTH OF MEAT TO SMOKE
"YOU LOOK LIKE A MONKEY AND SMELL LIKE ONE TOO"  A CONSERVATOR MEMBERSHIP & ANIMAL ENCOUNTER PACK WITH THE ANIMAL OF YOUR CHOOSING @ CHEYENNE MOUNTAIN ZOO
"THE DELIVERANCE" BANJO, BOW & ARROW, AND A FISHING TRIP ON THE ARKANSAS
6.15 
 "SPY THY NEIGHBOR": A DRONE TO FILL YOUR REMOTE CONTROLLED CHILD HOOD NEEDS, OR TO SPY ON YOUR NEIGHBORS
"VAN DOWN BY THE RIVER": $943 TOWARDS RENT OR MORTGAGE SO YOU DON'T END UP LIVING IN A VAN DOWN BY THE RIVER
"PLANKER": SET OF NEW K2 SKI'S.. 1 LIFT PASS TO ANY MOUNTAIN IN COLORADO TO TRY BREAK THEM IN.. PLUS GAS TO GET YOU BACK AND FORTH..
"IF YOU WANT MY BOTANY AND YOU THINK I'M SEXY": ALL THE GOODS YOU NEED TO START YOU'RE OWN SUCCESSFUL GROW OPERATION
6.16
"DELIVERANCE": BANJO, BOW & ARROW AND A FISHING TRIP ON THE ARKANSAS
"RIM JOB": $943 IN NEW RIMS FOR YOUR RIDE
"SHINING": AXE, BOTTLE OF RUM (RED) AND A WEEKEND STAY AT THE STANLEY HOTEL IN ESTES PARK TO INCLUDE THE HAUNTED TOUR..
"FAMILY REUNION": AIR FAIR AND CAR RENTAL FOR A WEEKEND TO VISIT THE FAMILY YOU'VE BEEN AVOIDING FOR THE LAST YEAR… PLUS A HOTEL ROOM BECAUSE, HONESTLY, YOU DON'T WANT SEE THEM THAT MUCH.
6.17
"ALWAYS BET ON BLACK": AIRFARE FOR ONE TO SIN CITY, CAB RIDE TO CLOSEST CASINO WHERE YOU WILL PLACE A $943 ROULETTE BET ON BLACK AND STREAM THE WHOLE THING LIFE ON KILO943.COM FOR THE KILO NATION TO WATCH.

"MIDDLE OF NOWHERE": ALL EXPENSE PAID TRIP TO THE MIDDLE OF NOWHERE (RUGBY, NORTH DAKOTA)

"KILO MADE ME RICH": $943 ADVERTISING SCHEDULE FOR YOUR BUSINESS TO INCLUDE ADS AND LIVE BROADCAST

"COLORADO EXTREME": TRIP FOR 4 TO VAIL FOR ZIPLINING, MOUNTAIN BIKE TOUR AND A 2 NIGHT STAY