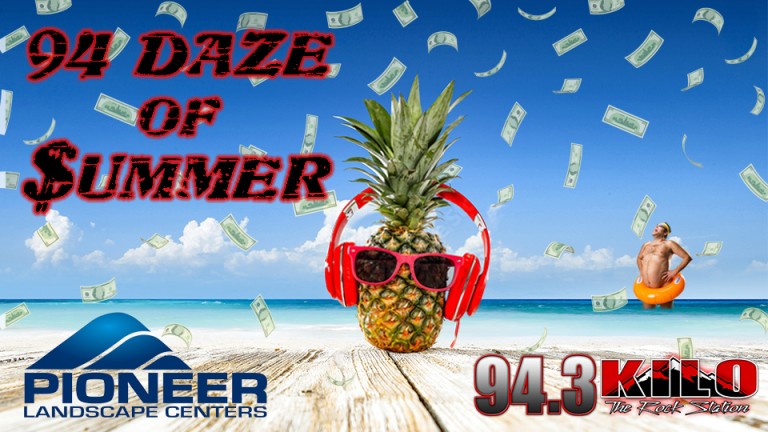 The Rock Station 94.3 KILO along with 3Hundred Days Of Shine are doing our best to bring the heat this summer! 94 Daze Of Summer is back and that means your chance at a $943 prize. Rock with KILO Monday – Friday on the KILO Morning Show as Ross Ford adds a 94 Daze Of Summer Prize to the Prize list. Then, listen for the 94 Daze Of Summer cue-to-call and get qualified to score one of those prizes during one of the three 94 Daze Of Summer giveaway's, taking place each month at The Stones Sports Grill & Bar. First giveaway takes place Saturday, June 25th from 1-3p. Must be checked in NO LATER THAN 2P at The Stones Sports Grill & Bar
94 Daze Of Summer brought to you by Pioneer Landscape Centers, The Public House at The Alexander, Tint World, Custom Linings, City Of Cripple Creek, Bell Brothers Brewing, Kill Your Culture and The Rock Station 94.3 KILO. 
94 Daze Of Summer Prize List
5.31 – PIONEER LANDSCAPE CENTERS: "LET'S ROCK!";

$943 IN LANDSCAPING COURTESY OF PIONEER LANDSCAPE CENTERS.
6.1 – THE PUBLIC HOUSE: "THE DAY DRINKER";

$943 TO THE PUBLIC HOUSE TO DRINK AT THE PUBLIC HOUSE AT THE ALEXANDER ANYTIME YOU'D LIKE.
6.2 – TINT WORLD "SHOW US YOUR TINTS";

$943 IN TINT WORK AND ACCESSORIES TO TO TINT WORLD.
6.3 – CUSTOM LININGS: "THAT'S A MIGHTY FINE REAR, YOU'VE GOT THERE";

$943 TOWARDS TRUCK BED LINING COURTESY OF CUSTOM LININGS.
6.6 – CITY OF CRIPPLE CREEK: "BET ON BLACK";

A BUST RIDE TO CRIPPLE CREEK AND BET ALL $943 ON BLACK.. PLUS, A USED COPY OF METALLICA'S "BLACK ALBUM".
6.7 – BELL BROTHERS: "THE BELL HOP";

$943 TO SPEND ON DISCOVERING YOUR FAVORITE HOPS AND BARLEY AT BELL BROTHERS BREWING.
6.8 – KILL YOUR CULTURE: "TREND SETTING REBEL";

$942.99 SHOPPING SPREE TO GET FULLY GEARED UP AT KILL YOUR CULTURE IN MANITOU. PLUS, SAVE A PENNY TO TOSS INTO A MACHINE AT THE PENNY ARCADE AROUND THE CORNER.
6.9 – "GONE CRYPTO";

$943 BUCKS WORTH OF BITCOIN. (IF YOU'D DONE THAT IN 2009, WHEN BITCOIN STARTED YOU WOULD CURRENTLY BE WORTH ROUGHLY $353,625,000!!)
6.10 – "I HAVE NO IDEA WHAT'S GOING ON RIGHT NOW"; 

A DENVER "CANI-BUS" TOUR FOR YOU AND 3 OF YOUR FRIENDS WE'LL ALSO THROW IN ALL THE MUNCHIES YOU MAY NEED AND A YEARS SUPPLY OF CLEAR EYES.
6.13 – "OBI WAN, YOU'RE OUR ONLY HOPE";

$943 TO BUILD YOUR OWN LIGHTSABER FROM ULTRASABERS.COM.
6.14 – "KICK THE TIRES AND LIGHT THE FIRES";

REMOTE CONTROLLED F-14 TOMCAT.
6.15 – "I HAVE HOGWARTS BIG TIME";

ALL THE HARRY POTTER MOVIES, A BLU-RAY PLAYER, A 75 INCH HDTV, AND A STICK YOU CAN PRETEND IS A MAGIC SWORD.
6.16 – "DANCES WITH WOLVES";

A DEEP FREEZER FULL OF BUFFALO MEAT AND A COPY OF "EMPIRE OF THE SUMMER MOON" SO YOU CAN READ WHAT THE WILD WEST WAS REALLY LIKE – KEVIN COSTNER IS FULL OF CRAP, MAN.
6.17 – "ARE YOU THOR? I'M THOR";

A REPLICA VERSION OF THE THUNDER GOD'S HAMMER, A CAPE, AND A ONE YEAR MEMBERSHIP TO A LOCAL GYM TO WORK ON THAT NORSE GOD PHYSIQUE.
6.20 – "I GOT GAS";

$943 GAS CARD, A BOTTLE OF BEANO, AND A PACKAGE OF NEW UNDERWEAR… IN CASE IT WASN'T GAS AFTER ALL.
"VAN DOWN BY THE RIVER";

$943 TOWARDS RENT OR MORTGAGE SO YOU DON'T END UP LIVING IN A VAN DOWN BY THE RIVER.
6.21 – "SCRATCH LIKE YOU'RE COURTNEY LOVE";

$943 IN COLORADO LOTTERY SCRATCH TICKETS.
"THE ROCK STAR"; 

 2 TICKETS TO ANY 2022 SHOW ON THE KILO CONCERT PAGE, A TOWN CAR TO GET YOU TO THE SHOW, AND A POCKET FULL OF CASH FOR BEER AND MERCH.
6.22 – "PIZZA PIZZA"; 183 $5 PIZZAS! THAT WILL GET YOU A PIZZA IN YOUR PIE HOLE EVERY OTHER DAY FOR A YEAR.
"THE HOMER"; A KEGERATOR AND A MINI DONUT MAKING MACHINE.
6.23 – "THE PLANKER"; SET OF NEW SKIS AND ONE LIFT TICKET TO ANY MOUNTAIN IN COLORADO TO BREAK 'EM IN.
"THE KNUCKLE DRAGGER"; NEW BURTON BOARD AND ONE LIFT TICKET TO ANY MOUNTAIN IN COLORADO TO RELEASE YOUR INNER APE.
6.24 – "GAMER'S WET DREAM"; XBOX SERIES X AND A PS5 (AS SOON AS THEY GET THEM BACK IN STOCK!!)
"THE GOOD KARMA"; A $943 DONATION IN YOUR NAME TO A CHARITY OF YOUR CHOICE.
6.27 – "POWDER HOUND"; ONE 2022/23 COLORADO "EPIC PASS" GETTING YOU UNLIMITED DAYS AT VAIL, BRECK, CRESTED BUTTE, KEYSTONE, AND BEAVER CREEK… 7 TOTAL DAYS AT TELLURIDE AND ACCESS TO OTHER RESORTS AROUND THE WORLD.. AVALANCHE BEACON SOLD SEPARATELY.
6.28 – "TURKEYS KILLED MY FAMILY"; A GUIDED TURKEY HUNT WITH LODGING FOR YOU AND ONE GUEST. PLUS STUFFING, POTAOES, AND GREEN BEAN CASSEROLE. TIME FOR SWEET REVENGE.
6.29 – "YOU LOOK LIKE A MONKEY AND SMELL LIKE ONE TOO"; A ONE YEAR CONSERVATOR MEMBERSHIP AND ANIMAL ENCOUNTER WITH YOUR FAVORITE ANIMAL AT THE CHEYENNE MOUNTAIN ZOO.
6.30 – "THE ROYAL GORGE REMINDS ME OF MY EX-GIRLFRIEND, BIG AND SCARY"; A WEEKEND AT THE GORGE WITH WHITE WATER RAFTING, ZIP LINING, AND A NIGHT IN YOUR VERY OWN YURT.