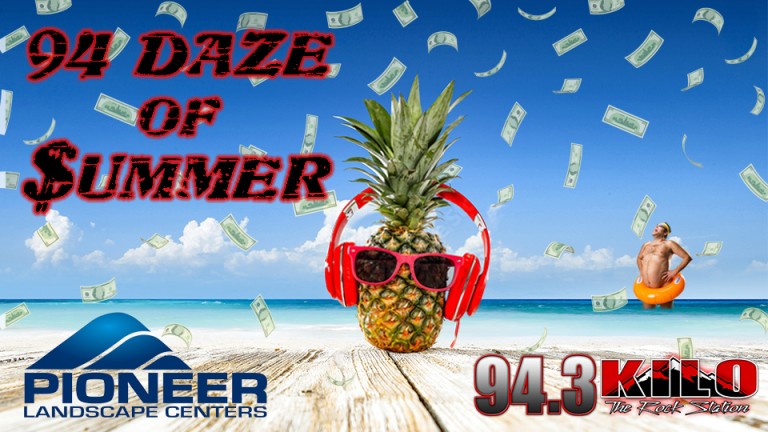 The Rock Station 94.3 KILO along with 3Hundred Days Of Shine are doing our best to bring the heat this summer! 94 Daze Of Summer is back and that means your chance at a $943 prize. Rock with KILO Monday – Friday on the KILO Morning Show as Ross Ford adds a 94 Daze Of Summer Prize to the Prize list. Then, listen for the 94 Daze Of Summer cue-to-call and get qualified to score one of those prizes during one of the three 94 Daze Of Summer giveaway's, taking place each month at The Stones Sports Grill & Bar. First giveaway takes place Saturday, June 25th from 1-3p. Must be checked in NO LATER THAN 2P at The Stones Sports Grill & Bar
94 Daze Of Summer brought to you by Pioneer Landscape Centers, The Public House at The Alexander, Tint World, Custom Linings, City Of Cripple Creek, Bell Brothers Brewing, Kill Your Culture and The Rock Station 94.3 KILO. 
94 Daze Of Summer Prize List
WEEK 1 – SPONSOR WEEK:
5.31 – PIONEER LANDSCAPE CENTERS: "LET'S ROCK!";

$943 IN LANDSCAPING COURTESY OF PIONEER LANDSCAPE CENTERS.
6.1 – THE PUBLIC HOUSE: "THE DAY DRINKER";

$943 TO THE PUBLIC HOUSE TO DRINK AT THE PUBLIC HOUSE AT THE ALEXANDER ANYTIME YOU'D LIKE.
6.2 – TINT WORLD "SHOW US YOUR TINTS";

$943 IN TINT WORK AND ACCESSORIES TO TO TINT WORLD.
6.3 – CUSTOM LININGS: "THAT'S A MIGHTY FINE REAR, YOU'VE GOT THERE";

$943 TOWARDS TRUCK BED LINING COURTESY OF CUSTOM LININGS.
WEEK 2 – SPONSORS CONT:
6.6 – CITY OF CRIPPLE CREEK: "BET ON BLACK";

A BUST RIDE TO CRIPPLE CREEK AND BET ALL $943 ON BLACK.. PLUS, A USED COPY OF METALLICA'S "BLACK ALBUM".
6.7 – BELL BROTHERS: "THE BELL HOP";

$943 TO SPEND ON DISCOVERING YOUR FAVORITE HOPS AND BARLEY AT BELL BROTHERS BREWING.
6.8 – KILL YOUR CULTURE: "TREND SETTING REBEL";

$942.99 SHOPPING SPREE TO GET FULLY GEARED UP AT KILL YOUR CULTURE IN MANITOU. PLUS, SAVE A PENNY TO TOSS INTO A MACHINE AT THE PENNY ARCADE AROUND THE CORNER.
6.9 – "GONE CRYPTO";

$943 BUCKS WORTH OF BITCOIN. (IF YOU'D DONE THAT IN 2009, WHEN BITCOIN STARTED YOU WOULD CURRENTLY BE WORTH ROUGHLY $353,625,000!!)
6.10 – "I HAVE NO IDEA WHAT'S GOING ON RIGHT NOW"; 

A DENVER "CANI-BUS" TOUR FOR YOU AND 3 OF YOUR FRIENDS WE'LL ALSO THROW IN ALL THE MUNCHIES YOU MAY NEED AND A YEARS SUPPLY OF CLEAR EYES.
WEEK 3 – IT CAME FROM HOLLYWOOD:
6.13 – "OBI WAN, YOU'RE OUR ONLY HOPE";

$943 TO BUILD YOUR OWN LIGHTSABER FROM ULTRASABERS.COM.
6.14 – "KICK THE TIRES AND LIGHT THE FIRES";

REMOTE CONTROLLED F-14 TOMCAT.
6.15 – "I HAVE HOGWARTS BIG TIME";

ALL THE HARRY POTTER MOVIES, A BLU-RAY PLAYER, A 75 INCH HDTV, AND A STICK YOU CAN PRETEND IS A MAGIC SWORD.
6.16 – "DANCES WITH WOLVES";

A DEEP FREEZER FULL OF BUFFALO MEAT AND A COPY OF "EMPIRE OF THE SUMMER MOON" SO YOU CAN READ WHAT THE WILD WEST WAS REALLY LIKE – KEVIN COSTNER IS FULL OF CRAP, MAN.
6.17 – "ARE YOU THOR? I'M THOR";

A REPLICA VERSION OF THE THUNDER GOD'S HAMMER, A CAPE, AND A ONE YEAR MEMBERSHIP TO A LOCAL GYM TO WORK ON THAT NORSE GOD PHYSIQUE.
WEEK 4 – HALL OF FAME:
6.20 – "I GOT GAS";

$943 GAS CARD, A BOTTLE OF BEANO, AND A PACKAGE OF NEW UNDERWEAR… IN CASE IT WASN'T GAS AFTER ALL.
"VAN DOWN BY THE RIVER";

$943 TOWARDS RENT OR MORTGAGE SO YOU DON'T END UP LIVING IN A VAN DOWN BY THE RIVER.
6.21 – "SCRATCH LIKE YOU'RE COURTNEY LOVE";

$943 IN COLORADO LOTTERY SCRATCH TICKETS.
"THE ROCK STAR"; 

 2 TICKETS TO ANY 2022 SHOW ON THE KILO CONCERT PAGE, A TOWN CAR TO GET YOU TO THE SHOW, AND A POCKET FULL OF CASH FOR BEER AND MERCH.
6.22 – "PIZZA PIZZA"; 183 $5 PIZZAS! THAT WILL GET YOU A PIZZA IN YOUR PIE HOLE EVERY OTHER DAY FOR A YEAR.
"THE HOMER"; A KEGERATOR AND A MINI DONUT MAKING MACHINE.
6.23 – "THE PLANKER"; SET OF NEW SKIS AND ONE LIFT TICKET TO ANY MOUNTAIN IN COLORADO TO BREAK 'EM IN.
"THE KNUCKLE DRAGGER"; NEW BURTON BOARD AND ONE LIFT TICKET TO ANY MOUNTAIN IN COLORADO TO RELEASE YOUR INNER APE.
6.24 – "GAMER'S WET DREAM"; XBOX SERIES X AND A PS5 (AS SOON AS THEY GET THEM BACK IN STOCK!!) *CLAIMED*
"THE GOOD KARMA"; A $943 DONATION IN YOUR NAME TO A CHARITY OF YOUR CHOICE.
6.27 – "POWDER HOUND"; ONE 2022/23 COLORADO "EPIC PASS" GETTING YOU UNLIMITED DAYS AT VAIL, BRECK, CRESTED BUTTE, KEYSTONE, AND BEAVER CREEK… 7 TOTAL DAYS AT TELLURIDE AND ACCESS TO OTHER RESORTS AROUND THE WORLD.. AVALANCHE BEACON SOLD SEPARATELY.
WEEK 5 – COLORADO WEEK:
6.28 – "TURKEYS KILLED MY FAMILY"; A GUIDED TURKEY HUNT WITH LODGING FOR YOU AND ONE GUEST. PLUS STUFFING, POTAOES, AND GREEN BEAN CASSEROLE. TIME FOR SWEET REVENGE.
6.29 – "YOU LOOK LIKE A MONKEY AND SMELL LIKE ONE TOO"; A ONE YEAR CONSERVATOR MEMBERSHIP AND ANIMAL ENCOUNTER WITH YOUR FAVORITE ANIMAL AT THE CHEYENNE MOUNTAIN ZOO.
6.30 – "THE ROYAL GORGE REMINDS ME OF MY EX-GIRLFRIEND, BIG AND SCARY"; A WEEKEND AT THE GORGE WITH WHITE WATER RAFTING, ZIP LINING, AND A NIGHT IN YOUR VERY OWN YURT.
WEEK 6 – CELEBRATE SUMMER WEEK:
7.5 – "SMOKE 'EM IF YOU GOT 'EM"; A NEW PELLET SMOKER (BLUETOOTH COMPATIBLE), A BEEF BRISKET, TWO PORK SHOULDERS, A 8 PACK OF BABY BACK RIBS, AND A COPY OF "HOW TO RUB YOUR MEAT".
7.6 – "GERONI – NOOOOOOO"; GET TOSSED OUT OF A PERFECTLY GOOD PLANE AT 18,000 FEET. TWO TANDEM SKYDIVES, A BOX OF DEPENDS (IN CASE YOU HAVE A BAD REACTION), AND WE'LL GET A LAWYER TO WRITE UP YOUR LAST WILL AND TESTAMENT (IN CASE YOU REALLY HAVE A BAD REACTION).
7.7 – "CRANK IT TO 11… DEGREES"; CHILL THE "F" OUT WITH THREE 10,000 BTU PORTABLE AIR CONDITIONERS. ELECTRICITY SOLD SEPARATELY.
7.8 – "WORLD WAR WET"; UNLEASH YOUR INNER CHILD AND TURN YOUR NEIGHBORHOOD INTO A WAR ZONE WITH 30 SUPER SOAKER XP1000S AND 10,000 WATER BALLOONS.
WEEK 7 – JOCK WEEK:
7.11 – "MO'S 'BOOMER PRIZE PACK'"; A "MOTORTECH" ELECTRIC TRIKE, "WISE EYEWEAR" BLOCK SUNGLASSES (TO FIT OVER YOUR REGULAR GLASSES), A "BUSHNELL" RADAR SPEED GUN (TO SEE HOW FAST YOU CAN GO), AND A CASE OF "ENSURE" (TO KEEP YOUR OLD BONES STRONG IN CASE YOUR WRECK).
"HATCHER'S 'THE AVENGER'"; $943 IN COMIC BOOKS AND MARVEL TRADING CARDS, ALONG WITH TWO PACKS OF RESEALABLE COMIC/CARD BAGS, TWO BACKING BOARD PACKAGES, AND TWO STORAGE BOXES TO PROTECT YOUR INVESTMENT.
7.12 – "SHERIFF JOE BAGS' 'I WISH STAN KROENKE WAS MY DAD'"; A REPLICA LOMBARDI TROPHY FOR SUPER BOWL LVI – $370, A REPLICA STANLEY CUP WITH AVALANCHE LOGO – $400, A FAKE BUT REALISTIC LOOKING MUSTACHE – $23, ONE YEAR'S SAM'S PLUS MEMBERSHIP – $100, SAM'S CLUB GIFT CARD – $50.
7.13 – "SID BLACK'S 'GET SID BLACKED OUT'"; BLACK OUT TATTOOS ARE IN NOW THANKS TO THE LIKES OF RAGE AGAINST THE MACHINE'S TIMMY COMMOFERD AND FALLING IN REVERSE'S RONNIE RADKEY… CATCH UP ON THE TREND WITH $943 TO "SID BLACK OUT" A BODY PART OF YOUR CHOOSING… JUST NOT YOUR FACE.
7.14 – "EMILY NIXX'S SOUTHERN ILLINOIS DEATH TRIP"; A BUS RIDE TO EMILY'S HOMETOWN OF SALEM, ILLINOIS. CHECK OUT EMILY'S ROOTS… INCLUDING THE WILLIAM JENNINGS BRYAN STATUE (HE'S A GUY WHO TRIED TO BE PRESIDENT ON 3 DIFFERENT OCCASIONS AND LOST EVERY TIME). PLUS A TOUR OF THE PLACE WHERE THEY BOTTLE THE MOST FAMOUS SODA YOU'VE NEVER HEARD OF "SKI SODA". FINISH THE DAY WITH DINNER AT THE FINEST RESTAURANT IN TOWN, DAIRY KING (BECAUSE A DAIRY QUEEN IS TOO EXPENSIVE) OR A SLICE OF PIZZA AT CASEY'S GAS STATION. ON TOP OF ALL OF THAT, YOU ALSO GET THE SMELL OF COW MANURE, AN INFINTE VIEW OF CORN FIELDS, AND MOSQUITOES… LOTS AND LOTS OF MOSQUITOES!
7.15 – "ROSS FORD'S GIVE A MAN A BEER AND YOU'LL QUENCH HIS THIRST, TEACH A MAN TO BREW AND HE'LL BE DRUNK THE REST OF HIS LIFE"; A "GRAINFATHER CONNECT " SELF CONTAINED ELECTRIC ALL GRAIN BEER BREWING SYSTEM WITH BLUETOOTH PLUS EVERYTHING YOU NEED TO BOIL UP A 10 GALLON OF HAZY IPA.
WEEK 8 – SPORTS WEEK:
7.18 – "GO PUCK YOURSELF"; TWO TICKETS AGAINST THE GLASS TO SEE YOUR WORLD CHAMPION COLORADO AVALANCHE DEFEND THE TITLE IN THE 2022/23 SEASON.
7.19 – "A FAMILY THAT PLAYS TOGETHER, STAYS TOGETHER"; FAMILY 4 PACKS FOR TWO ROCKY MOUNTAIN VIBES GAMES, TWO SWITCHBACKS FC GAMES, AND TWO CC HOCKEY GAMES. PLUS CASH FOR PEANUTS, SODA, AND CRACKERJACKS.
7.20 – "WHO WANTS SOME WELTS?"; 4 SPYDER VICTOR PAINTBALL GUNS, 4 MADDOG PAINTBALL ACCESSORY KITS, AND A DAY AT A LOCAL PAINTBALL PARK.
7.21 – "WHY ARE YOUR BALLS DIFFERENT SIZES?"; TWO TICKETS TO A BRONCOS HOME GAME, TWO TICKETS TO A ROCKIES HOME GAME, AND TWO TICKETS TO A NUGGETS HOME GAME.
7.22 – "COOK LIKE RUSSELL WILSON"; TWO AUTHENTIC DENVER BRONCO #3 JERSEYS, AN AUTOGRAPHED HELMET FROM THE NEW BRONCOS QB, AND A ONE MONTH SUPPLY OF PLATED DINNERS DELIVERED TO YOUR HOME.
WEEK 9 – LET THERE BE ROCK WEEK:
7.25 – "THE ULTIMATE STACK OF VINYL"; A NEW TURNTABLE AND COPIES OF SOME OF THE GREATEST ROCK ALBUMS OF ALL TIME. METALLICA'S "JUSTICE", TOOL'S "AENEMA", GNR'S "APPETITE", NIRVANA'S "NEVERMIND", VAN HALEN'S "1984", PANTERA'S "VULGAR DISPLAY", ZEPPELIN "4", "BLIZZARD OF OZ", KORN'S SELF TITLED DEBUT, ALICE IN CHAINS "FACELIFT", BLACK SABBATH'S PARANOID", AND AC/DC'S "HIGHWAY TO HELL".
7.26 – "THE TOOLBOX"; ENHANCE YOUR EARS WITH EVERY TOOL RECORD INCLUDING "FEAR INOCULUM" ON VINYL AND ENHANCE YOUR TOOL COLLECTION WITH A $500 HARBOR FREIGHT GIFT CARD.
7.27 – "THE ALCOHOLLICA"; EVERY STUDIO ALBUM FROM METALLICA PLUS 3 BOTTLES OF THEIR "BLACKENED" WHISKEY.
7.28 – "CAN I AX YOU SOMETHING? HOW DO I BECOME A ROCK GOD?"; A GUITAR, AMP, AND ONE YEAR WORTH OF LESSONS FROM A PRO TO ANSWER ANY QUESTIONS ABOUT HOW TO ROCK. DRUG AND ALCOHOL DEPENDENCY SOLD SEPARATELY.
7.29 – "THE PUNCH OF DEATH"; 4 TICKETS TO THE DEATH PUNCH SHOW IN OCTOBER, COMPLETE WITH A MEET AND GREET, CASH FOR SOME MERCH, AND A BLU-RAY COPY OF "KILL BILL" SO YOU CAN LEARN THE "FIVE POINT PALM EXPLODING HEART TECHNIQUE" AKA THE "DEATH PUNCH".
8.1 – "HOOKERS AND BLOW" – CITIZEN NATHAN; FLY FISHING ROD AND REEL AND A BIG ASS 52 INCH CEILING FAN.
8.2 – "ALL ABOARD" – CITIZEN MICHELLE/A COLORADO TRAIN RIDE; 4 TICKETS TO RIDE 4 OF THE BEST TRAINS IN COLORADO INCLUDING THE PIKES PEAK COG RAILWAY, THE GEORGETOWN LOOP RAILROAD, CRIPPLE CREEK/VICTOR NARROW GAUGE RAILROAD, AND THE LEGENDARY DURANGO/SILVERTON NARROW GAUGE RAILROAD.
WEEK 10 – KILOS PANEL WEEK… WE ASKED THE ROCK PANEL "IF WE GAVE YOU $943, WHAT WOULD YOU SPEND IT ON?":
8.3 – "INTO THE WILD" – CITIZEN MANDY/CAMPING WITH DAUGHTER; TWO BACKPACKS, A TWO PERSON TENT, TWO SLEEPING BAGS, ONE WATER FILTER, ONE PACK STOVE, ONE COOK KIT. TWO HEADLAMPS, A WEEKEND'S SUPPLY OF FREEZE-DRIED FOOD, AND TWO CANS OF BEAR SPRAY.
8.4 – "A CRAP TON OF LEAD" – CITIZENS CONNOR, EUGENE, CECIL, & ED/AMMO; $943 IN 9MM AMMO. THAT'S 59 BOXES OR 2,950 ROUNDS!
8.5 – "I'M GONNA PUKE" – CITIZEN STEVEN; A DIZZYING DAY ADVENTURE IN COLORADO SPRINGS' BOOMING NEW NORTH SIDE INCLUDING GO KART RACING, INDOOR SKYDIVING, AND FOOD/DRINKS AND GOLF AT TOPGOLF.
WEEK 11 – SOUNDS DIRTY, BUT IT'S NOT WEEK:
8.8 – "HAVE YOU EVER SEEN URANUS?"; A CELESTRON NEXSTAR 45E COMPUTERIZED TELESCOPE SO YOU CAN GET A REAL GOOD LOOK AT THAT THING.
8.9 – "GETTING HOT AND WET WITH 5 OF YOUR FRIENDS"; AN INTEX 85 INCH 6 PERSON PORTABLE HOT TUB AND BOTTLE OF COURVOISIER TO SET THE MOOD.
8.10 – "OH YEAH! GIVE ME THE HARDWOOD!"; A WOODWORKING CLASS ON HOW TO MAKE FINE FURNITURE AND ENOUGH CASH TO GET YOUR HANDS ON SOME NICE WOOD TO BUILD THAT NIGHT STAND.
8.11 – "EVEN THOUGH I LICK MY OWN BUTT, YOU REALLY LOVE ME"; PAMPER YOUR PUP WITH 20 PRIVATE SWIMS AT A DOG SWIMMING POOL, DOG WASHES FOR A FULL YEAR (12 TOTAL), AND 150 NEW TENNIS BALLS.
8.12 – "THE FIST, THE WHOLE FIST, AND NOTHING BUT THE FIST."; TWO OF THE BEST FIGHT GAMES EVER!!! MIDWAY LEGACY EDITION MORTAL KOMBAT ARCADE GAME AND AN ARCADE 1UP STREET FIGHTER 3 IN 1 ARCADE GAME.
WEEK 12 – FIVE OF THE FINAL TEN WEEK
8.15 – "THE GRINDER"; A BREVELLE BARISTA ESPRESSO MACHINE, ONE YEAR SUPPLY OF LOCAL ROASTED COFFEE (24 LBS), AND SOME UNISOM SLEEPING PILLS TO TAKE THE EDGE OFF AT NIGHT.
8.16 – "MY OWN PERSONAL DRIVE-IN"; TURN YOUR BACKYARD INTO A MOVIE MIRACLE WITH A 25 FOOT INFLATABLE MOVIE SCREEN A WIFI/BLUETOOTH MOVIE PROJECTOR, AND A SWEET CAR BED TO LAY IN WHILE YOU WATCH YOUR FAVORITE MOVIES.
8.17 – "KILO MADE ME RICH!!!"; A $943 ADVERTISING SCHEDULE FOR YOUR BUSINESS… INCLUDING ADS AND LIVE BROADCAST. GET READY TO TAKE YOUR BUSINESS TO THE NEXT LEVEL.
8.18 – "IT'S NOT ME, IT'S YOU"; $943 TOWARDS A DIVORCE LAWYER… AND A ONE YEAR MEMBERSHIP TO FARMERS ONLY TO FIND THAT "SPECIAL SOMEONE".
8.19 – "THIS PANDEMIC AIN'T OVER AND I AIN'T GONNA STOP WORKING FROM HOME"; AN HP PAVILION 17.3″ LAPTOP COMPUTER, 10 DISPOSABLE HAZMAT SUITS, 365 DISPOSABLE FACE MASKS, 10 TWELVE PACKS OF PAPER TOWELS, AND 365 ROLLS OF TP FOR YOUR BUNGHOLE.
WEEK 13 – CRANKING OUT THE HOLIDAYS IN 5 DAYS
8.22 – "END SUMMER WITH A BAND AND MAYBE SOME JAIL TIME"; A PELLET SMOKER TO HAVE ONE LAST SUMMER HURRAH BARBEQUE, ONE SLIP N' SLIDE, ONE FIRST AID KIT FOR ANY BURNS OR INJURIES CAUSED BY THE SLIP N' SLIDE, $50 IN GAS TO GET YOU TO CHEYENNE, WY TO BUY FIREWORKS, $100 FOR THE FIREWORKS, THE REST GOES TO HELP PAY YOUR FINE FOR SETTING OFF FIREWORKS IN CITY LIMITS.
8.23 – "TRICK'S ON YOU, THE MORE YOU DRINK, THE HOTTER I GET"; $400 GIFT CARD TO SPIRIT HALLOWEEN TO DECK YOUR PLACE OUT FOR A HALLOWEEN PARTY, $100 FOR YOUR NAUGHTY NURSE COSTUME, $100 GIFT CARD TO CHEERS LIQUOR MART FOR TEH DIRNKS, $100 IN HALLOWEEN CANDY, AND A $225 IV HYDRATION THERAPY SESSION FOR THAT NEXT DAY HANGOVER.
8.24 – "SORRY MOM, I REALLY WANTED TO MAKE IT…"; $550 FOR A ONE NIGHT STAY AT GOLD POINT RESORT IN BRECKENRIDGE TO AVOID YOUR DRUNK UNCLE CARL AND AWKWARD QUESTIONS FROM THE REST OF YOUR FAMILY AT THANKSGIVING THIS YEAR, $60 IN GAS TO GET YOU THERE, COUTESY CALL FROM ROSS FORD HIMSELF TO MAKE AN EXCUSE AS TO WHY YOU CAN'T MAKE IT, PLUS $400 TO TREAT YOURSELF TO A THANKSGIVING DINNER OF YOUR CHOOSING AT A LOCAL RESTAURANT.
8.25 – "ONE ROCKIN' CHRISTMAS"; TWO TICKETS TO SEE THE TRANS SIBERIAN ORCHESTRA, TWO TICKETS TO THE ELECTRIC SAFARI AT CHEYENNE MOUNTAIN ZOO, AND A FIVE PIECE PEARL ROADSHOW ROCK DRUM SET TO WAKE UP THE KIDS ON CHRISTMAS MORNING.
8.26 – "KISS 2022 GOODBYE"; A $250 BOTTLE OF DOM PERIGNON CHAMPAGNE TO KICK OFF THE NEW YEAR, A ONE YEAR MEMBERSHIP TO A LOCAL GYM FOR YOU TO BLOW OFF YOUR NEW YEAR'S RESOLUTION THIS YEAR, AND A "KILO KISSING KIT" INCLUDING CHAPSTICK, BREATH SPRAY, AND TWO TUBES OF ABREVA.